At present in the world of Structural Engineering, a lot of design enhancement and developments arises since the beginning of structural design.These developments include the use of structural design software which aims to enhance our ability as a structural engineer to come up with safe and sound designs especially when dealing with complex structures. Although this structural engineering software helps us to make our life easier, bear in mind that the fundamental knowledge and experiences theoretical or practical is still important at the end of the day. Because these software development are based on the fundamental knowledge that can only be understood by Structural Engineers. The author lists the top 5 Structural Engineering Softwares that a Structural Engineer should learn. They are the following:
ETABS
ETABS is integrated building design software developed by Computers and Structures Inc, also known as CSI. This software is perhaps the most powerful software in structural engineering when the design
of buildings and towers is a concern.  ETABS is software that offers a set of tools for structural engineers who design multi-story buildings from simple to complex, whether they are working on single-story structures or the highest commercial skyscrapers and towers. Modeling tools and templates, code-based load prescriptions, analysis methods, and solution techniques, all coordinate with the grid-like geometry unique to this class of structure. Basic or advanced systems under static or dynamic conditions may be evaluated using ETABS. For a sophisticated assessment of seismic performance, modal and direct-integration time-history analyses may couple with P-Delta and Large Displacement effects. Nonlinear links and concentrated PMM or fiber hinges may capture material nonlinearity under monotonic or hysteretic behavior. Intuitive and integrated features make applications of any complexity practical to implement. Interoperability with a series of design and documentation platforms makes ETABS a coordinated and productive tool for designs which range from simple 2D frames to elaborate modern high-rises.
SAFE
SAFE is a structural engineering software that belongs to the CSI family as well and has been developed to carry out the design of foundations and concrete slabs. SAFE integrates all aspects of the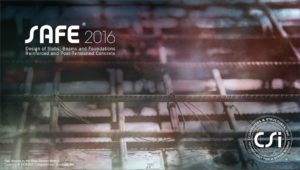 engineering design process in an easy and intuitive environment. The layout of the models is fast and efficient thanks to the sophisticated drawing tools, besides it presents import options to bring the data of the CAD programs, spreadsheets or databases. The slabs or foundations can be of any shape and may include edges of circular shapes and spline curves. SAFE is immensely easy-to-use software for structural designers, providing all the necessary tools for the modeling, analysis, design and detailing of a concrete slab and foundation systems. It is a software tailored for the engineering of elevated floor and foundation slab systems. Slab modeling, analysis, and design procedures feature a suite of sophisticated tools and applications, couple with post-tensioning, punching-shear, and beam detailing, and integrate the influence of soils, ramps, columns, braces, walls (rectilinear or curvilinear), and other interfacial elements. Interoperability with SAP2000 and ETABS allows users to import models, loading, and displacement fields into SAFE for more advanced local assessment of slab systems within larger structures. A 3D-object-based model may originate in SAFE or import from SAP2000, ETABS, or CAD. Templates quickly initiate a model. Grid, snap, chamfer/fillet, trim/extend, circular- and spline-curve controls allow direct drawing of any slab shape.
STAAD.Pro
STAAD.Pro is a 3D Structural Analysis and Design Software developed by Bentley. It considered also as the most complete structural engineering software that can design and analyze almost every type of structures. It can perform comprehensive analysis and design for any size or type of structure. It allows to design with confidence structures such as steel, concrete, timber, aluminum, and cold-formed steel structures anywhere in the world using more than 90 international codes. It designs and analyzes simple or complex structures for a wide range of loading conditions, including those induced by gravity such as dead and live loads, including skip conditions, in combination with lateral loads including wind and seismic. Some design capabilities of STAAD.Pro are the following: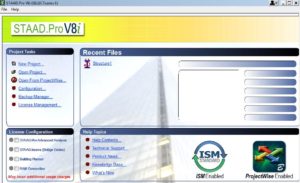 Design and analyze by the finite element method.
Design and analyze structural models.
Design beams, columns, and walls.
Design lateral resistance structures
Generate design loads and load combinations.
Integrate foundation and block designs.
Integrate designs of steel joints.
Produce structural design documentation
Share structural models.
PROKON
Prokon is a commercial software application developed by Prokon Software Consultants and it is widely used worldwide. It composed of more than forty structural analysis, design and detailing programs for finite element method and structural engineering analyzing and designing of structures. This software is very comprehensive software with a user-friendly interface. The software provides quick and reliable answers to everyday structural engineering problems such as: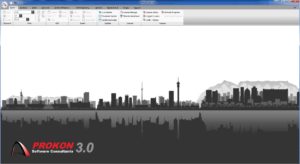 Frame and finite element analysis
Steel member design
Steel connection design
Reinforced and prestressed concrete design
CAD and reinforced concrete detailing
Timber member design
Masonry design
Other Structural Engineering Software
There is a lot more structural engineering software development over the years. They are usually developed according to its use.  Although it is not necessary, other structural engineering software that you should learn are SAP2000, TEKLA, RAM Structural, Robot Structural Analysis, Limcon, ACI RCM, Midas, Tedds, ADAPT and RAPT  to name a few.
Online Structural Courses Available!
Want to learn more about some of the Structural Softwares mentioned above? Check out the available online courses below that our affiliate offers:
Every engineer has its different perspective on what software to learn for at his convenient. But the lists above are based on the author's experience as a structural engineer when he started his career in Structural Engineering. What about you? Did you learn the same? Feel free to share your thoughts and leave your comment below. You can also subscribe also to our newsletter for any updates.
Source : thestructuralworld